Night & Day brings you the soulful sounds of vocalist Renée Tannenbaum and the jazz stylings of pianist Michael Suser.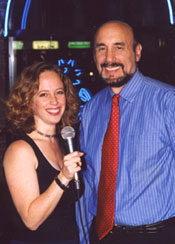 A seasoned vocalist himself, Michael adds his smooth singing talent to the scene, performing jazz tunes solo and as a duet with Renée.
Michael and Renée present their delightful mix of swing and blues as a duo for an intimate setting, often adding horns, bass, and/or drums to create the size band to suit any room. At times whimsical, at times edgy, this versatile pair entertains audiences regularly at clubs all over town. They are also available for private parties.
See our photo gallery »
Michael Suser, a D.C. native, has been the leader of Night and Day's seven-piece ensemble, one of the Washington area's most popular swing bands, for the last fifteen years. He has studied jazz piano for many years and has performed both piano and jazz vocals at One Step Down as part of the Ron Elliston-Ronnie Wells workshops. His trio has also performed at the East Coast Jazz Festival. Michael has an abiding love for the wonderful body of American popular music written in the '30s and '40s, with a particular fondness for swing and the big band era.
CONTACT US »
Vocalist Renée Tannenbaum performed at a variety of venues in her native Canada and in Italy before moving to New York City in 1996. There, she was a founding member of Treble, a female a cappella group which performed its eclectic repertoire in clubs around Manhattan. Renée has been living and singing in D.C. since 2001.
THEY ALL LAUGHED IS NOW AVAILABLE

Check it out!